Auto Repairs
Haik's German Autohaus Santa Barbara
Mercedes Repair | BMW Repair | Porsche Repair
Audi Repair | Volkswagen Repair | Mini Repair
All Major & Minor Mechanical, Electric and Electronic Auto Repair Work
Repair and Service for Every System In Your Car
Brakes | Air-Conditioning | Engine | Transmission | Suspension | Lighting | Electrical | Electronic | Computer Controls | Body | Chassis
Complete Auto Repair
When performing auto repairs, we do not merely replace a part or parts, we service the entire system in order to prevent further break-downs. Like a good doctor, we treat the disease, not just the symptom. For example, overheating may be caused by more than just that leaking water pump. It may also be caused by a defective thermostat, clogged radiator or blown head gasket, etc. Or the cooling system may be rusty and contaminated, and need a system flush. It is imperative to address the entire cooling system when a problem occurs. This is how we approach all repairs.
Understanding the entire working system, not just the function of individual components, is vital to repair the problem correctly.
There is also clean-up involved. For example, when an oil leak is repaired, should the oil and caked-on dirt be left in place, or should it be cleaned off so the area not only looks clean, but also so any new leak will be able to be seen immediately?
These are all aspects of doing a complete job, and they take time.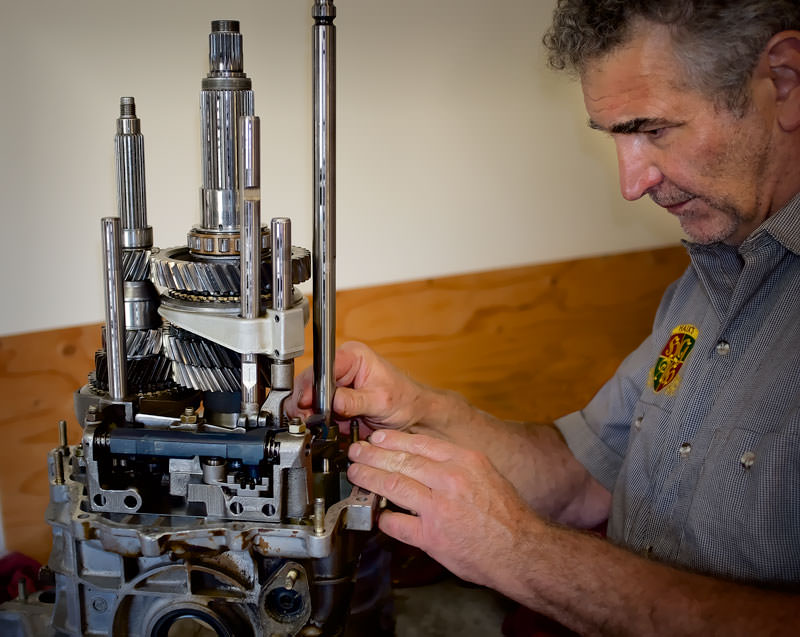 Auto Repairs We Offer
Running Problems | Warning Lights | Check Engine Light Repairs | Battery Replacement | Brakes | Engine Repair | Fuel Injection | Fuel Injectors | Electrical Repairs | Computer Controls | Electronic Computer Repairs | Brake Pad Replacement | Brake Rotor Replacement | SRS Repairs | Air Bag Replacement | Seat Belt Replacement | Air-Conditioning Repair | A/C Compressor Replacement | A/C Condenser replacement | Starting Problems | Alternator Replacement | Starter Replacement | Oil Leaks | Body Repairs | Diesel | Body Repair | Door Lock Repair | Key Ignition Lock Repair | Lighting | Window Lifter replacement | Exhaust System | Muffler Replacement | Catalytic Converters | Oxygen Sensor Replacement | Power Steering Repair | Steering Pump Replacement | Steering Rack Replacement | Cooling System Repairs | Overheating | Radiator Replacement | Thermostat | Water Pump Replacement | Hoses | Chassis | Suspension | Shock Absorbers | Struts | Tires | Control Arms and Bushings | Transmission Repair | Transmission Replacement | And More...
Auto Repair Defined
*Note: "Repair" and "Service" are not synonymous. For services, please see our Services page. An auto repair is to fix or replace a part after it has failed, is worn out or is broken.
An auto service is a routine maintenance performed to keep your entire vehicle working properly. It is a preventative measure to keep all the various systems of your car from breaking down and wearing out prematurely.
Every Car Has Its Own Specific Types of Problems
In choosing your mechanic, you should consider his/her experience with your brand and model of automobile. The specialist sees certain problems over and over again, while the general repairman has not experienced this repetition often enough to know the weaknesses or strengths of a particular vehicle.
Front-wheel drive cars for instance, wear out their axle boots (CV boots) much more often than rear-wheel drive cars. The turning of the front wheels causes stress and flex on the front cv boots. Volkswagens, Audis and 4-wheel-drives have front axles as do BMW X5, and tear or crack their CV boots. When we are servicing a car, we look for these types of failures.
For up-to-date repair information we use an online auto repair information service.
We use the Latest Technical Information available.
Brake Repair
While a brake job is the most common brake repair (replacing brake pads and/ or rotors), there are several other parts of the braking system which can wear out or fail. The modern braking system is composed of three sub-systems: the mechanical, the hydraulic and the electronic (ABS).
For more details see Brake System or see Anti-Lock Braking System.
Check Engine Light
The check engine light is a warning light in the instrument cluster to warn that a failure has occurred. While this OBDII system was designed to warn about smog related failures, it warns of critical engine-running problems as well. Once the light displays, a motorist should consider having it checked by a qualified mechanic.
For more details see Check Engine Light below or see OBDII.