HAIK'S GERMAN AUTOHAUS
Mini Repair and Mini Cooper Service
Santa Barbara
Specializing in the Maintenance of all Mini Models
Mini Cooper | Mini Cooper S | Mini Cooper Paceman | Mini Cooper Clubman | Mini Cooper Roadster | Mini Cooper Countryman
We Perform All Services and Repairs on Mini Cars
At Haik's German Autohaus, our German car mechanics are equipped with the best testing and repair equipment available. We provide repair and service for every system in your Mini Cooper from the most sophisticated electronic or mechanical repairs on your engine, transmission, brakes, steering and suspension to any of your car's service needs such oil change, battery replacement, air filter, tire rotation, brake fluid change, water pump replacement or any other service requirement your car may have.
While Mini's origins were British, today it is built by BMW. It may not look like a BMW, but its sportiness and handling are very much in line with the BMW tradition. The Mini Cooper has many of BMW's advanced mechanical and electronic design features.
Some of the latest are: an electric steering pump without the use of fluid, electric water pump, and electronically controlled thermostat. These sophisticated systems operate quite differently than previous systems and require special skills and special equipment to service. At Haik's German Autohaus, we are prepared. From the most sophisticated electronic repair to an oil change, from the difficult mechanical suspension bushing repair to a battery replacement or brake job, we have the tools, the information and the skills.
Every auto service and car repair your Mini receives at Haik's, is performed by a master automotive technician trained in your specific type of car.
For the Best Care Your Mini Can Have
(805) 965-0975
Mini Auto Service Menu
Mini Car Check and Inspection Services
Car Check | Service Engine Soon | Vehicle Inspection | Check Engine Light Diagnosis | Trouble-Shooting | Diagnostics | Pre-Purchase Check | Safety Check
Mini Cooper Services
Air-Conditioning Service | Air Filter | Battery Service | Belts | Brake Fluid Flush | Cabin Filter | Coolant Change | Diesel Service | Differential Service | Engine Service | Fuel Filter | Car Noises | Oil Change | Power Steering Flush | Spark Plugs | Transfer Case Service | Transmission Service | Tune-Up | Serpentine Belt (60,000 miles) | Brake Fluid change (every 2 years) | Coolant change (every 4 years) | Oxygen Sensor replacement (100,000 miles) | Spark Plug replacement (100,000 miles) | And More…
Mini Repair By Symptom
Running Problems | Starting Problems | Warning Lights | Check Engine Light | ABS Light On | Brake Warning Light | Tire Monitor On | Service Light On | SRS | Dead Battery | Overheating | Air-Conditioning Not Cold | Shifting Problems | Car Noises | Oil Leaks | Shaking | Windows Not Operating | And More...
Mini Cooper Repairs
Air Bags | Air-Conditioning | Alternator | Battery Replacement | Body Repair | Brakes | Catalytic Converter | Computer Controls | Cooling System | Diesel Repair | Door Locks | Engine Repair | Electrical Repairs | Electronic Computer Repairs | Exhaust System | Key Ignition Lock | Leaks | Light Bulbs | Lighting | Mirror Replacement | Muffler | Noises | Oxygen Sensors | Power Steering | Radiator Replacement | Seat Belts | Shock Absorbers | Starter | Thermostat | Tire Replacement | Transmission Repair | Transmission Replacement | Water Pump | Window Lifters | And More...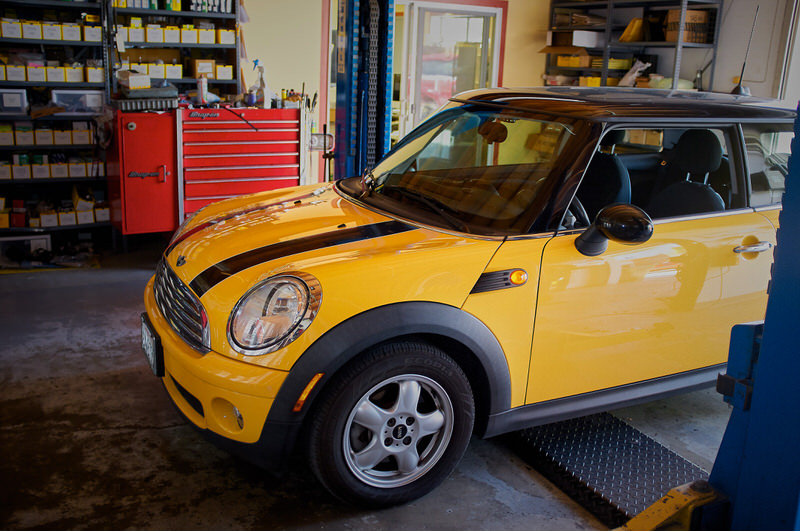 We offer both Mini factory service schedules and Haik's custom service schedules
Three levels of maintenance to choose from: Major, Mid-Level, Minor
Please call us to discuss any issues with your Mini Cooper

(805) 965-0975